ICYMI: PAVC Highlights the Relationship Between Broadband Access and Telehealth Services
Feb 11, 2022
Washington, D.C. – In case you missed it, the Partnership to Advance Virtual Care (PAVC) shared their latest #TelehealthTuesday data visualization this week focused on the integral relationship between broadband access and telehealth use.
In the visualization, PAVC highlights that, "while Medicare beneficiaries nationwide have benefited from increased access to telehealth, more can be done to improve access." In one example, the visualization showed that "more than 10 million Medicare fee-for-service beneficiaries reside in counties where less than 80% of households have broadband access."
While counties with limited broadband access did see telehealth growth from 2019 to 2020, it is crucial that access to broadband is expanded as telehealth access is correlated with broadband access. This data underscores the need to improve broadband access to ensure that these populations can access vital telehealth services.
See this week's visualization below and access PAVC's #TelehealthTuesday page HERE.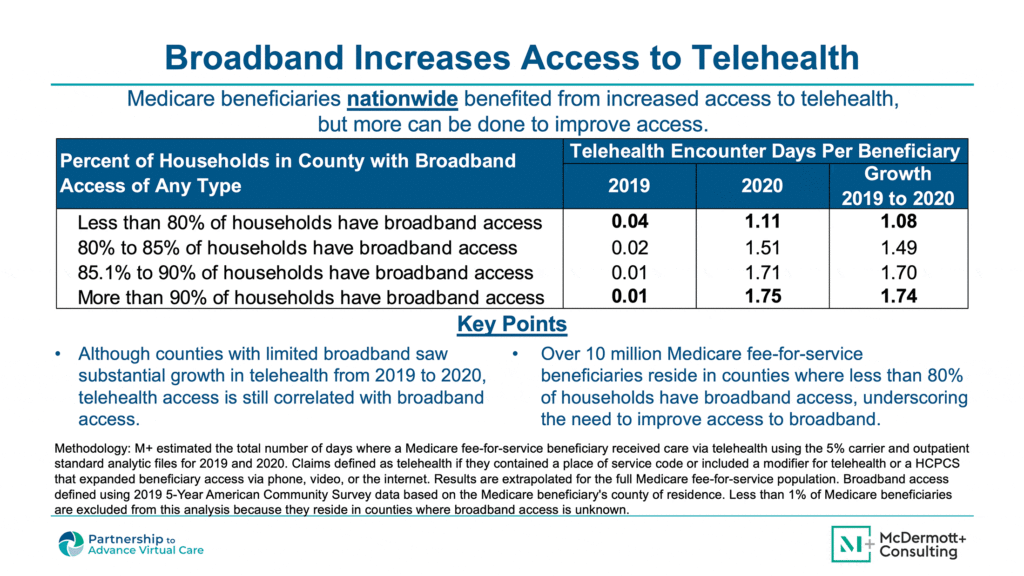 ABOUT TELEHEALTH ACCESS FOR AMERICA
Telehealth Access for America (TAFA) is a public education campaign supported by leaders in health care committed to better care, expanded patient choice, and protecting access to critical telehealth services. Learn more and take action today at www.telehealthaccessforamerica.org.
###