ICYMI: PAVC Showcases That Medicare Beneficiaries Across The Country Benefited From Telehealth In 2020
Mar 31, 2022
41 Percent Of All Medicare Fee-For-Service Beneficiaries Had At Least One Telehealth Encounter In 2020
In case you missed it, the latest #TelehealthTuesday visual from the Partnership to Advance Virtual Care (PAVC) outlines the benefits of virtual care for Medicare beneficiaries across the country in 2020, showcasing that 41 percent of all Medicare fee-for-service beneficiaries (approximately 14.8 million people) had at least one telehealth encounter in 2020.
In this week's graphic, PAVC maps out the widespread use of telehealth across the country by Medicare beneficiaries in 2020, displaying the widespread use of telehealth throughout the country and demonstrating the need to preserve access to these important services post-PHE.
See this week's visualization below and access PAVC's #TelehealthTuesday page HERE.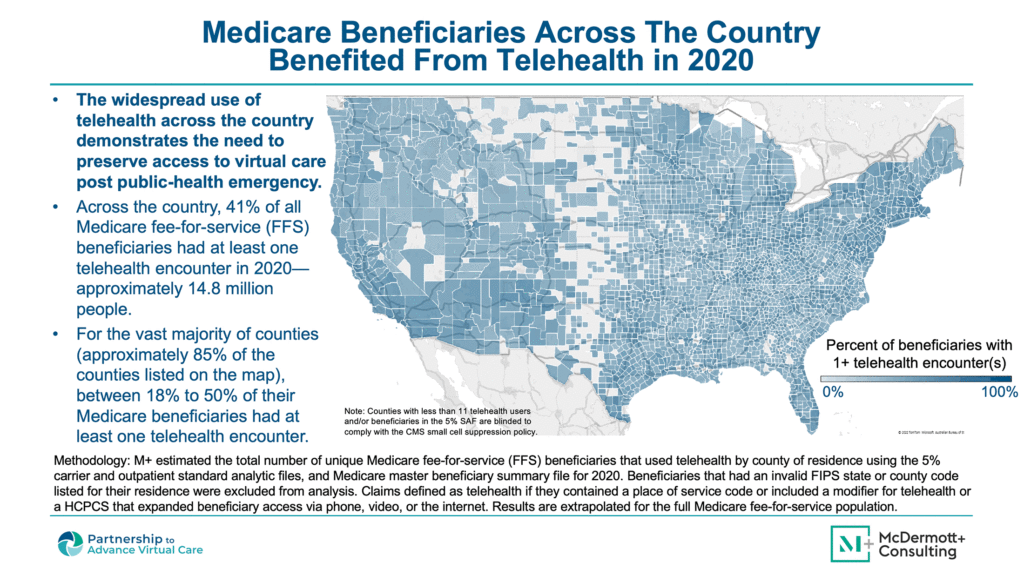 ABOUT TELEHEALTH ACCESS FOR AMERICA
Telehealth Access for America (TAFA) is a public education campaign supported by leaders in health care committed to better care, expanded patient choice, and protecting access to critical telehealth services. Learn more and take action today at www.telehealthaccessforamerica.org.
###