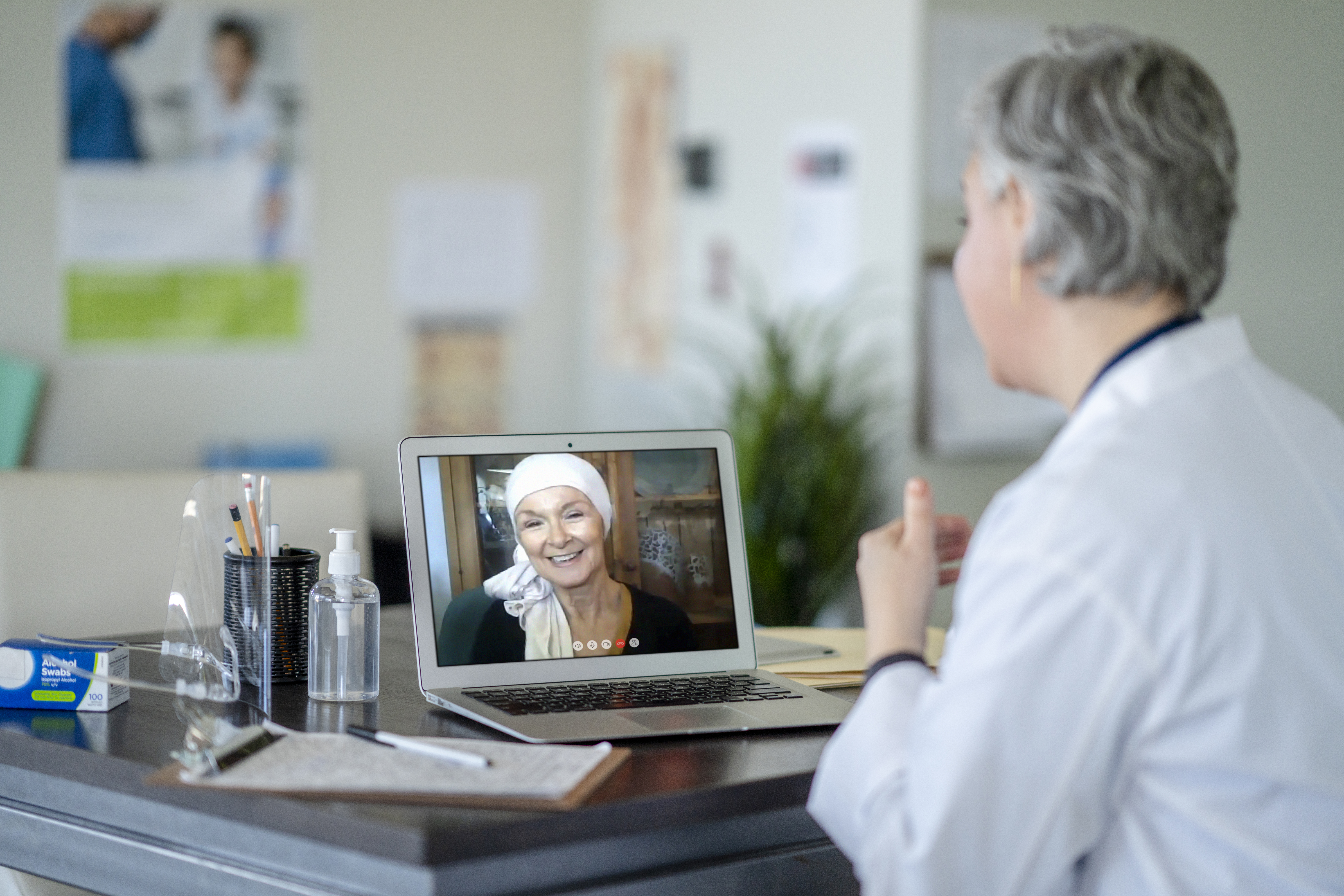 Telehealth is helping health care providers innovate, address inequities in health care, effectively connect with their patients, address burnout, and improve the health care system.
Read what health care providers are saying about the critical value of telehealth and the urgent need for Congress to act to protect access to virtual care.

As a mental health provider, teletherapy has allowed me to see young people with eating disorders who would have otherwise had to travel hundreds of miles for specialized mental health care or would not have been able to access the treatment they need at all. In some areas of Michigan, there are no specialized eating disorder providers. Telehealth in these cases is not merely a matter of convenience – it is a matter of necessity to be able to put people in touch with experts who can help them. Telehealth is vital for increasing access to care, particularly among communities (people of color, financially disadvantaged communities, rural communities) that have traditionally been underserved.
Eating Disorder Specialist
Telehealth has increased access to essential care! Telehealth has enabled my services to reach far more individuals, individuals in small corners of my home and neighboring states, who otherwise wouldn't have had access to an eating disorder dietitian. It has allowed my busy clients to see me during the workday, requiring less time off work to receive services (typically a barrier to care). It's allowed my physically disabled clients have easy access to "my office," and for my patients who have experienced trauma, it's allowed them to remain in the safety of their home when initiating care and speaking with a provider. Patients simply get more good treatment because Telehealth is an option! I am a proud Telehealth provider and I hope this service continues indefinitely!
Eating Disorder Specialist
I provide intake evaluations/assessments for clients who want to explore eating disorder treatment. There are too many examples to share specific stories however similar experiences before the intake appointment and the ability to show up are vast. Clients share their high level of anxiety often stating, "I'm not sure I need to be here", "I'm scared and don't know what to expect", and "what if I'm not ready [to pursue treatment.]" I believe all the anxiety/nervousness/fear was a large factor causing clients to cancel/no-show appointments prior to telehealth. Since transitioning to telehealth, our no-show and late cancels have decreased significantly. With telehealth, clients can decide to show up even if it is at the last minute when before if their anxiety caused them to respond with fight, flight, or freeze they would miss appointments. Again, numerous clients have shared with me that being at home during that first session eased their anxiety, they knew they could end the session with a push of a button, and it felt safer. Telehealth has not only reached clients that have limited resources in their community, but it is also reaching clients who are in our community but do not have the internal resources to manage symptoms at the onset of therapy. Telehealth provides a safe place to begin to build relationship, rapport, and skills.
Minnesota Resident, Female, 51
When I struggled with my eating disorder as an adolescent 16 years ago, my parents spent precious time and money driving me from appointment to appointment, and that was the only way to access treatment at the time. Now, I'm a provider at a virtual eating disorder treatment program where we've been able to reduce so many access-to-care barriers by using telehealth. Eating disorder treatment is hard enough and telehealth is a tool that can and should be used to ease the burden.
Eating Disorder Specialist
When everything shut down for COVID my weekly appointments had to transition to telehealth. It was an odd adjustment not going into the office anymore, but it was something that proved to be more beneficial as time went on. Being in the comfort of my own home, I found it easier to let myself process. Before, the office atmosphere made it easier to put up "walls" and be closed off with my provider. Telehealth also helped me address some issues that I was dealing with at home and gave me the opportunity to walk through *literal* areas of concern with my provider- an approach that would be impossible in the office setting.
Eating Disorder Specialist
Telehealth is saving lives in the rural Midwest and to limit or prevent further progress in developing access would be archaic. Over half my clients utilize telehealth saving families and individuals from the burden of immeasurable barriers to get to a brick-and-mortar building. In the mental health field, we have not seen the peak of the mental health pandemic – the need for help is remarkable and to limit funding for telehealth services would be one of the greatest failures of mental health services in the 21st century.
South Dakota Resident, Female, 40
Being able to provide telehealth services over the past three years has been incredibly valuable to the clients I work with. This is evidenced by their ability to better implement therapeutic strategies in real time, in their home environments, or environments they are familiar with. Being surrounded by their belonging, in their space, has allowed for continued anxiety reduction. Many of my clients were able to progress faster and discharge sooner (upon completing treatment goals) than when they were coming in to my office. I have been able to work with clients who would not otherwise be able to receive treatment due to lack of transportation, funds, or distance from the office. Telehealth services must continue for under-served populations to continue to receive vital care
Oklahoma Resident, Female, 39